September - November 2016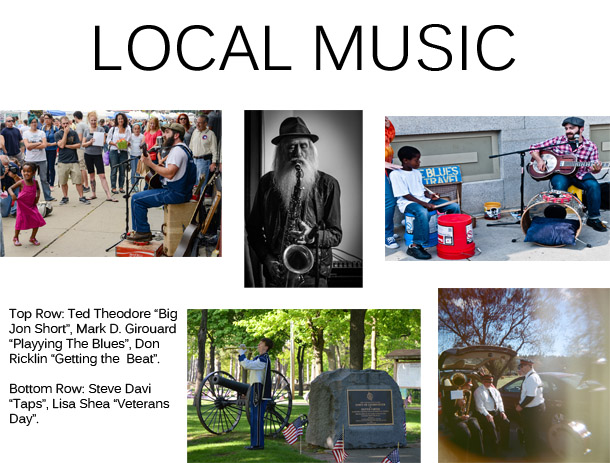 The Worcester Alliance of Photographers and the Seven Hills Camera Club in partnership with the Worcester Cultural Coalition are announce the Worcester Windows new Summer exhibition "Summertime" located at the Community Gallery in the basement level of City Hall, 455 Main St, Worcester MA. The new Summertime exhibit is officially up and ready for view.The new exhibit features a nostalgically assortment of photographic styles representing "Where we love to be when the weather gets hot" .
Participating Photographers:
Andrew Plotkin: PE James Live Redux, PE James Live
Bob See: Clalin Hill Alternatives
Don Ricklin: Getting The Beat, Rick Maidon Bass
Kris Paukstys: Keyes Start, Steel Strings, Steel Strings2
Lisa Shea: Gillians Worcester, Veterans Day
Mark D. Girouard: Playing the Blues, Music Man, Soul
Priscilla Messinger: Imperial Lion, Ritmos Ladies
Mike McCool: Cool Jazz, Sea Shanties
Steve Davi: Taps
Ted Theodore: Brooks Milgate At The Dive, Pistol Whipped At Ralphs, Big Jon Short
About the Worcester Alliance of Photographers

The Worcester Alliance of Photographers is a place where both amateur and professional photographers meet to talk about technical aspects of photography, be create and share ideas. All members are welcome to submit images for this juried gallery which hosts several shows each year. The WAP meets the last Thursday of every month. Additional details available online.
About the Seven Hills Camera Club
The Seven Hills Camera Club meets twice monthly to share our photos and improve our photography. We also participate in photography field trips and photo exhibitions. Our current meeting place is the Salem Covenant Church in Worcester.