Worcester Blackstone Visitor Center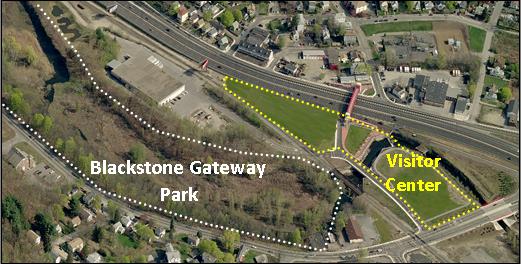 The Worcester Blackstone Gateway Visitor Center will be a full service, multi-use facility, featuring a welcoming area, historic and cultural exhibits, a theater, restroom facilities, an adjacent passive recreation lawn, and office, classroom and meeting space. It will also serve as the new home for the Massachusetts Department of Conservation and Recreation (DCR) Central Regional Office. The adjacent park will provide recreational and educational opportunities by way of trails, boardwalks, observational platforms, interpretive signage and kiosks, and paths with connectivity to the Blackstone River Bikeway.
The aim of the design process is to:
To promote the cultural, historical, and natural heritage of Central Massachusetts, the Blackstone Valley and the City of Worcester;

To promote active living programs that generate greater use of bicycling and walking for all age groups;

To create and provide educational, recreational, and training opportunities;

To enhance the environment by constructing noteworthy facilities for bicycling and walking (integrating these facilities into highway and transit project development and design);

To support a community outreach process that encourages the community to take ownership and pride in the project.
Contact Person
George Saliba, 508-799-1400 x223, SalibaG@worcesterma.gov