Woo-gle for Google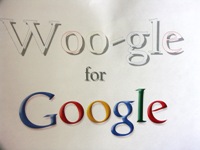 Google wants to install an ultra high-speed broadband network in cities across America – AND we want them to come to Worcester! Google's new network is expected to deliver Internet speed more than 100 times faster than what most Americans can access today and offer service at a competitive price. The goal is to make Internet access better and faster for everyone. The City of Worcester responded to Google's Request for Information.
Although we've already submitted our application (below), it is not too late to join us in our efforts to "woo" Google - or Woo-gle for Google!
What would Google Fiber mean for Worcester?
1. Better and faster internet access available to everyone!
Download a song in seconds.

Download a high definition, full-length film in less than 5 minutes.

Collaborate with classmates around the world while watching live 3D video of a university lecture.

Digitize large volumes of information quicker.

Revolutionary use of technology with unprecedented scale and speed.
2. Access to groundbreaking applications from Google and partners.
3. Increased opportunities for new and existing companies and industries.
4. New applications for online government and resident communications.
How can you support this initiative?
Google will provide a huge range of benefits to our residents and businesses if we are selected as a trial community. Here's how you can show your support for this initiative:
Become our Friend, Tell a Friend - Numbers speak so let's show Google just how much we want them in the Woo! Become a Fan of Woo-gle for Google's Facebook Group and suggest that your friends become members too!
Woogle Map - Let's show Google, using their own tools, how serious we are as a community about this incredible opportunity. Tag yourself on the map!
WorcesterWoogle - Visit our blog! Upload a video to YouTube talking about why you want Google Fiber in Worcester or why you're Woog-ling. Be creative, silly, or serious, but keep it to the point! Whatever you do—a video, essay, podcast, musical performance, skit—use Google tools such as Buzz, Blogger, GoogleGroups, YouTube, Google Maps! Send it to the official Woogle e-mail at WorcesterWoogle@gmail.com and we'll add it to the blog!