Washington Square Redevelopment
The conversion of the former Washington Square rotary in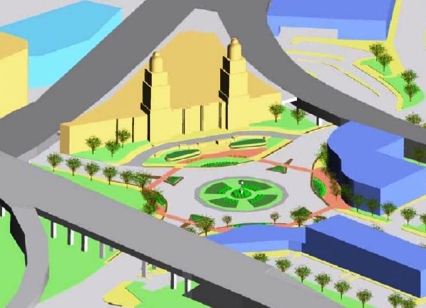 to a smaller roundabout has dramatically transformed the area around Union Station by creating four parcels that are significant transit-oriented development opportunities. Washington Square is also one of the most important transit nodes in the Commonwealth of Massachusetts, home to Union Station—the western terminus of the Massachusetts Bay Transportation Authority's commuter rail line—as well as a hub for both inter-and intra-city bus service. An historic crossroads for the City of Worcester, Washington Square connects Worcester's downtown, Shrewsbury Street, Canal District, and Grafton Hill neighborhoods. The roundabout also functions as a gateway to some of the city's most important developments including CitySquare, the Regional Justice Center, Saint Vincent Hospital, the DCU Arena and Convention Center, and the Hanover Theatre for the Performing Arts.
Recognizing the higher values and development interest to be generated by this investment, the City of Worcester developed the "Washington Square Redevelopment Strategy" that both assesses and affirms the significant development potential of the four new parcels. The report, which was adopted by the Worcester City Council, focuses on achieving the highest and best use of the new parcels with high density, multi-level, mixed-use development. The City has been working in collaboration with the Worcester Redevelopment Authority to foster this transit-oriented development in a way that is complementary to other major projects in the area.
The City works in collaboration with the Worcester Redevelopment Authority to grow this important transit and development center.
Sensible (Sense-able) Bridges Project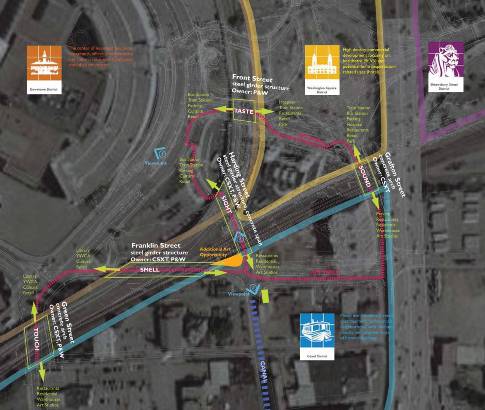 The legacy of the railroads that fed Worcester's growth into a regional economic hub is visible in the viaducts that divide portions of the city. These separations, coupled with the automobile-focused development of the 20th century, have disconnected the downtown from Washington Square, the Canal District, and Shrewsbury Street.
This project seeks to restore those connections by creating a unique pedestrian experience and attractive destination points for residents and visitors alike. To that end, the City developed the "Sensible (Sense-able) Bridges" concept that assigns one of the 5 senses to each of the bridges. The City also convened a project team to craft a conceptual design that explores physical improvement and best application of the senses concept to the bridges.