Creative Live / Work / Sell Space
The City of Worcester is a center for creative activity. From visual arts to performance art to writers of every genre, Worcester embraces the creative economy and its workforce. Worcester's diverse neighborhoods and stately architecture offer living, working and retail space for artists of every stripe. Below find a sampling of opportunities presently available in the city, as provided by creative space developers.
John W. Higgins Armory
The John W. Higgins Armory is a historical building and a Worcester Landmark.
Available spaces throughout John W. Higgins Armory Building is for rent on a hourly, daily, weekly, or monthly basis. 42,000 sq.ft. available. 9,000 sq.ft. Great Hall is available on a daily basis and is the perfect backdrop to a fund raiser, film location, photography shoot, wedding, business function, art shows and more. 120 seat Auditorium perfect for lectures, signings, award nights, quiet listening shows, poetry, information sessions, trainings and more! Private parking lot that holds 200 cars available also for outside events. Office space, studio space, retail, gallery or pop-up gallery, film location, theater, and multiple other uses within the John W. Higgins building.
Please contact Jenn Bachour 508-410-1554, or email info@johnwhigginsarmoryllc.com also, please visit our website for pictures and more information www.johnwhigginsarmory.com
The Hadley Apartments
Calling all artists, creative types, entrepreneurs, and anyone else who is spending too much on rent! The Hadley Apartments, located at the intersections of Madison and Main Streets, are now accepting applications for residency.
The Hadley is a historic rehabilitation of the old David Burwick Furniture Co. building. At The Hadley, you'll get lots of space at affordable prices – income restrictions apply, but if you're eligible, you could get:
One-bedroom apartments (around 800 sq. ft.) at $822.
Two-bedroom apartments (around 1,200 sq. ft.) at $982.
Three-bedroom apartments (aounrd 1,375 sq. ft.) at $1,134.
Some units at market rate are also available.
Apartments are brand-new, and feature: Lots of space, with high ceilings and exposed brick and piping for an urban loft feel; heat, hot water, and central air conditioning included in rent; hardwood maple kitchen cabinets; new Whirlpool energy-efficient appliances; security provided; laundry available on-site; great location, central to downtown Worcester, bus and train stops, and I-290; optional DirecTV and high-speed Internet (charges apply); off-street parking available.

Call Winn Management at 508-791-1437 for more information, or visit Winn Management at Wellington Community, 714 Main St., Worcester, MA 01610 to pick up an application. Additional information available online.
Odd Fellows
The Odd Fellows Loft Apartments offers space for lease. The area is divided into two separate spaces that measure 23' x 6 ' and 14' x 77' respectively. The area measuring 14' x 77' is divided by a wall. These areas would avail themselves to artist work areas very easily. A shared multi-purpose enterprise could be accommodated easily as well. The space is served by a residential elevator leading to a large entry into the main space and a separate door leading into the smaller space. A service elevator located in the rear of the building could be utilized to get large equipment into the area. The spaces are well lit and parking is provided.
The space has central air and central heat. Click here for additional info
Sprinkler Factory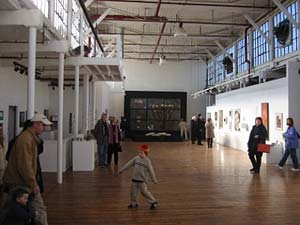 Located near downtown Worcester, the Sprinkler Factory is a large complex with a rich history. It is now home to an eclectic mix of tenants: working artists in different media who find the space inspiring for painting, ceramics, music and dance. The gem of the building is the huge atrium in the center of the complex on the 2nd floor, available for exhibits, dancing and other performances. Visit the Sprinkler Factory website
Art Space Finder
The definitive place to help you find or list space to create throughout Massachusetts. www.artspacefinder.org
Contact Person
For more information or to see about listing your available creative space, contact Erin Williams, Cultural Development Director, 508-799-1400, x265 williamse@worcesterma.gov.