South Worcester Industrial Park (SWIP)
City-Owned Properties within SWIP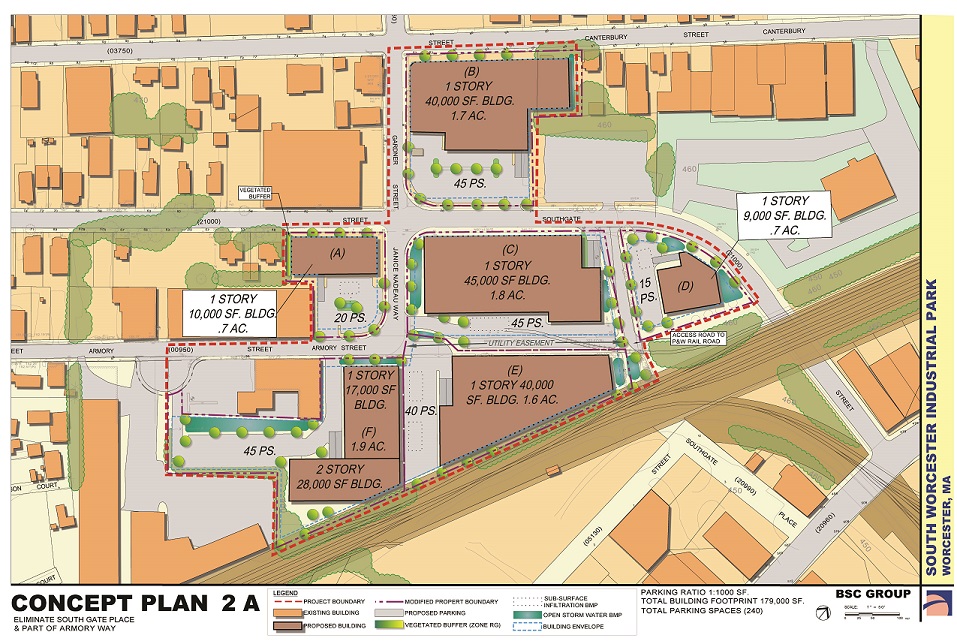 The South Worcester Industrial Park (SWIP) is an 11-acre brownfield site. The City currently owns approximately 8 acres within the redevelopment area. Past uses at the site include foundry, cast metal manufacturing, textile machinery manufacturing, and auto salvage, which contributed to the environmental contamination at the site. The SWIP project consists of infrastructure improvements, demolition, and environmental remediation to create pad-ready parcels for light manufacturing, industrial, and commercial use. Located one-half of a mile from the Port of Worcester, SWIP has excellent access to freight rail, interstate highways (I-290, I-90, Rt. 146), and Downtown Worcester.
The goals for the SWIP project are to create new development sites, eliminate blight, promote sustainable development, create employment opportunities and business growth, and increase tax revenue. Upon the completion of the final pre-development activities, up to six new development parcels will be available for disposition and development, which could generate approximately 180,000 square feet of new industrial and commercial space.
Involved Parties/Interest Groups
South Worcester Neighborhood Improvement Corporation and the South Worcester Industrial Park Task Force
Major Timelines/Benchmarks
Demolition and Road Construction: The infrastructure improvements and demolition of the buildings located at 65 Armory Street, 17 Southgate Street, and 25 Southgate Street have been completed.
Environmental Remediation: The Division of Business Assistance procured Tighe & Bond to complete environmental site assessments and surveys of remaining structures within SWIP. This work is being funded by the U.S Environmental Protection Agency (EPA) through its Brownfields Assessment, Revolving Loan, and Cleanup Program and MassDevelopment. Important environmental investigations, remediation work, and necessary demolition, have been completed.
Tax Increment Financing (TIF): On April 2nd, 2013, the City Council approved a local property tax exemption schedule to incentivize redevelopment. The level of exemption is dependent upon the size of the building to be constructed and number of jobs to be created. Exemption percentages on the incremental taxes range from 40% to 80% for a length of time ranging from 10 to 20 years.
Economic Development Plan: On April 29th, 2014 the City Council approved an Economic Development Plan for the area. This plan, which prioritizes the area for redevelopment, enables the administration to engage in direct negotiation for the land disposition. The terms of conveyance will be submitted to the City Council for final approval. See the full plan below.
Property Disposition: The city-owned parcels are now available for purchase and development. The land is being brokered by Glickman Kovago & Company. The listing sheet can be found below.