June - August 2014
For its summer 2014 exhibition the Worcester Windows Community Gallery Program presents works by Worcester painter Brian Burris and a series of abstract photographs by members of the Worcester Alliance of Photographers.
Painting from the Other Side of Night - Brian Burris
Bay State Savings Bank, 32-36 Franklin Street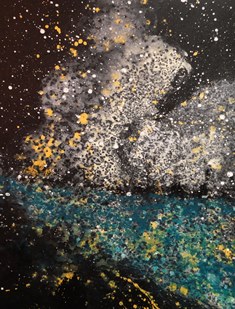 Featuring ten oversized paintings based in color theory and minimalism with underlying patterning that elicits from the viewer the tendency to subconsciously impose or project forms upon the patterns of the painted field. Works in this exhibition include: Ceremony, Naked between Earth & Sky, Nearer, No More Tears, Remnant, River of the Night (shown here), The Riverman, We are Stars, Esai (shown here), and Ocean of Sleep
About the Artist - Brian Burris paints in a style known as automatic painting (like automatic writing—a technique of repetitive, intense, self-hypnotic motion), coupled with a technique known as 'aleatory', which is governed in part by, or allowed to proceed through, chance which manifests through non-traditional methods of working with acrylic that allow the characteristics of the paint itself (viscosity, drying time, friability, etcetera) to play a considerable role in how the painting develops and comes to completion.
Akin to both a Rorschach (or ink blot) test and the phenomena known as pareidolia (a psychological phenomenon causing the brain to interpret vague and random stimulus as significant and perceive a coherent image, like apophenia, the tendency of the brain to recognize faces in random stimuli, like seeing faces in clouds for example).), Burris' intent is to make the painting more of an experience, rather than just an object to be viewed.
He's been compared in the press to Jack Kerouac, Hunter Thompson and Rothko. Recently he's published not one but two novels: Rocks in the Head and Acid Fighter (both available on Amazon.com). On the side, he's a professional firefighter who also served years as an EMT as well as having been a behavioral specialist prior-to (the basis for his paintings-as-psychological-construct). His works and curriculum vitae can be viewed at www.BurrisWorks.com

Abstractions - Worcester Alliance of Photographers
City Hall Gallery, 455 Main Street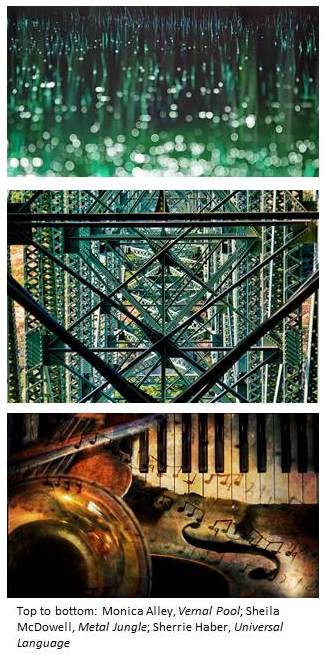 Photographs typically record the world in a manner similar to the way we see it. This show challenged photographers to interpret in a non-literal way, not relying on a recognizable subject. No guidelines were set as to technique or digital manipulation, only that images must be based on a photograph.
About the Artists:
The Worcester Alliance of Photographers is a place where both amateur and professional photographers meet to talk about technical aspects of photography, be create and share ideas. The WAP meets the last Thursday of every month. Additional details available online.
Participating photographers and their works for the Abstractions exhibit, which was curated by Tyler Trahan, include:
Andrew Plotkin, Dream Snowflake; Don Ricklin, Business Records Only; Ed McDowell, Blue Lagoon; John Daly, Heart of the Garden and Jaydee & Tinkerbelle Emerge from Black Hole with Castorbean; Judy Belben, Benchware; Lisa Shea, Millbury Train Bridge and Two Bridges; Michele Loftus-Trzcinski, Jay Lyons Road Race; Mike McCool, Event Horizon and Snow on Windshield; Monica Alley, Vernal Pool; Paul Goodwin, Warp Speed; Priscilla Messinger, Flock; Ron Jolicoeur; Russ Garre, Longsjo Classic and Colorbrella; Sheila McDowell, Eyes & Lips and Metal Jungle; Sherrie Haber, American Pastime and Universal Language; Susan Sabino, Orchid Abstract 2; Tyler Trahan, Out of the Tunnel and Seventy-Nine; Wendi Kennedy, Bristlecone Pine