WOO Deals & Discounts

What's in it for you?
Every time you attend a WOO event, swipe your WOO Card at the box office or front desk to receive special discounts and/or reduced admission just for being a WOO card subscriber. And each time you use your WOO Card you'll earn WOO points which will make you eligible for exciting prizes and drawings.
There are tons of discounts available to you for simply being a WOO card user. Check out our calendar of events for all the great WOO happenings! Look for the

&

for the latest special events!
Check out our Google Map to see all of our participating WOO venues!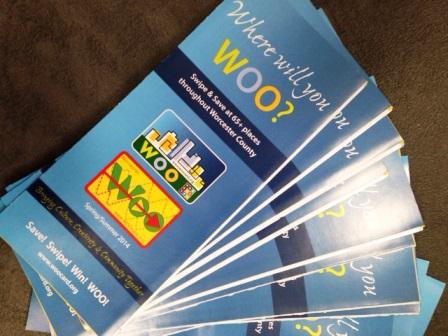 Hard copy Where Will You WOO? mini-brochure now available - email us to request a copy be sent to you.
Where You Can WOO...
Museums & Libraries - Galleries & Special Events - Active Sports & Outdoors - Music, Theatre & Performances - Quick Bites - Restaurants - Transportation Services - Accommodations - Retailers - Map of Participating WOO venues
---
Featured WOO Deals
Clayground Paint Your Own Pottery Studio - 65 James Street, Suite 11, Worcester Paint your own pottery studio offering a wide selection of pottery pieces, from novelty items to figurines, cups, bowls, and plates; plus over 70 paint colors. Plan your next paint adventure with us! No studio fee for up to four people
Talytas Cafe - 20 Front Street, Worcester Downtown Worcester's newest eatery serving up delicious burritos, tacos, quesadillas, fajitas and more! $1 off purchase of $10 or more
Button Tree Kids- 1102 Pleasant Street, Worcester Carrying a unique collection of products from classic and modern toys, clothing, educational items, costumes, puzzles, stuffed animals and more. 15% off any one item
Check out the latest Wow WOO Packages!
Museums & Libraries
Galleries & Special Events
Active Sports & Outdoors
Music, Theater & Performances
Quick Bites
Restaurants
Transportation Services
Accommodations
Retailers