Get a WOO Card

Want to WOO? Of course you do! Get your WOO Card today to begin receiving discounts and special offers at more than 70 Worcester area arts and cultural institutions, restaurants, hotels, retailers and more.
Card holders receive discounts and special offers totaling well over $250 for cool concerts, dynamic theater, unique museums, magical music, street festivals, outdoor adventures along with restaurants, retailers, hotels, transportation providers and more — throughout Worcester County, throughout the year!
WOO Cards available by request using the link below - and never expire!
College WOO Cards available free for students enrolled at participating COWC campuses.
Public Woo Card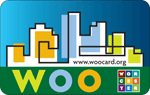 Get your WOO Card today and you too can be WOOing in no time! WOO Cards make great gifts too - give the gift of culture! (Card activated once recipient registers it.) To request a WOO Card, please send us an email!
College Woo Card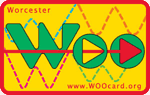 Attention Clark University Students: You don't need a separate WOO card! Simply register the WOO on your student ID using the WOO number printed on your it and begin WOOing today!
Hey, Worcester Area College Students...
Haven't received a FREE WOO card yet? Simply fill out a form and you'll be WOOing in no time! (Card will be sent upon confirmation of enrollment at participating Colleges of Worcester Consortium campuses. Please allow minimum of two weeks.)