Worcester Common Oval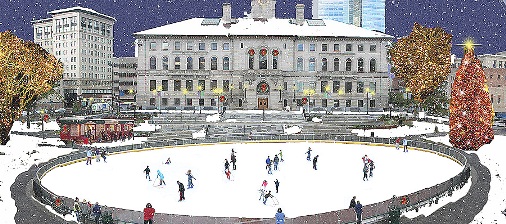 Uncommonly cool fun returns to downtown Worcester again this winter with the opening of the Worcester Common Oval Public Skating Rink located behind Worcester City Hall, 455 Main Street, Worcester.
The Worcester Common Oval will open for the season on Saturday, December 7th.
The rink will be open for public skating Saturdays and Sundays from 1 - 6 p.m. for the month of December, and from 1 - 5 p.m. for January and February with extended weekday openings during school vacation weeks in December and February. See Oval Calendar of Events for complete details.
The Oval will be open for lunchtime skate from 12 noon - 2 p.m. on Thursdays throughout December, January and February.
Admission for public skating is just $2. Children 6 and under skate free!
Skate rentals available for $3. Please note: a refundable $25 credit card or cash deposit per skate rental is required. To get you on the ice faster, download application below and bring it with you to the Oval.
For updated information about potential rink closures due to inclement weather or frigid conditions please call the Oval Hotline: 508 929-0777.