Worcester Common Oval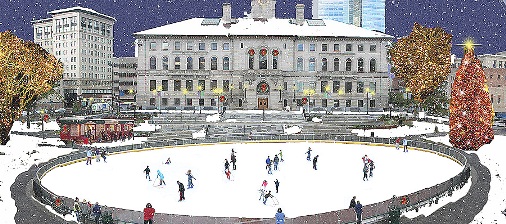 Thanks to everyone who made our 2014 Out to Lunch Concert Series & Farmers Market such a smashing success! Great eats, great beats, great treats!
Coming soon... the return of public skating at the Worcester Common Oval!
Oval Hours of Operation
The Worcester Common Oval will open for the season on Friday, November 28th.
Regular hours of operation will be
Fridays, 5- 8 p.m.
Saturdays, 12 noon - 5 p.m.
Sundays, 12 noon - 5 p.m.
During school vacation weeks special weekday hours will be Monday - Thursday, 12 noon - 5 p.m.
Admission for public skating is $2, children 6 and under skate free.
In the event of questionable weather conditions, please call 508 929-0777 for updated Oval conditions and/or rink schedule/closures.
Skate Rentals
During public skating hours at the Worcester Common Oval, ice skate rentals will be available for $3.
Planning to rent skates? Save time by printing the attached form below and completing the application in advance. Remember you will need a MA driver's license or a MA state identification, PLUS a major credit card in order to rent skates. If you don't have a credit card, a $25 fully refundable cash deposit is required for each pair of skates rented.