WOOphoria - Celebrating 10 Years of Creative City Making
Welcome to WOOphoria!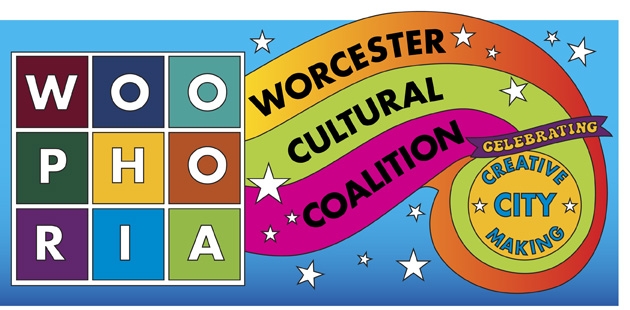 In celebration of the Worcester Cultural Coalition's 10 years of creative city-making we invite you to join us for WOOphoria! To be held in conjunction with the 7th Annual stART on the Street Festival on Sunday, September 20, 2009 - WOOphoria will offer dynamic, hands-on, interactive, multi-generational experiences!
To be staged within the stART footprint at the corner of Elm Street and Park Avenue, WOOphoria will feature nearly two dozen of the Cultural Coalition's members including:
Meet & greet with a Knight and Princess from Higgins Armory Museum
walking tours of Elm Park with Preservation Worcester, featuring tales of the colorful history of the first publicly purchased park in America
record your Worcester memories with WCUW Radio via a 1940's radio console
create commUNITY quilt squares with the Henry Lee Willis Community Center, and learn the cultural significance of quilting relative to African American history
help write a giant Community Poem along with the Worcester County Poetry Association
try your hand at Gaelic calligraphy and Irish drumming along with the Worcester Hibernian Cultural Centre
participate in a huge rubber band art installation with the Worcester Art Museum
have your pictures taken with a series of giant Worcester postcards created by the Worcester Public Schools
and so much more!
WOOphoria will also mark the 100th anniversary of the visit by Sigmund Freud to Worcester (his only speaking engagement in the United States), and will include an interactive public art project that will quite literally "put Worcester on the couch."
The Couch will make its first appearance on Sunday, September 20th 2009, during the stART on the Street art festival and also will be displayed at various events and locations (indoors and out) around Worcester County in the months to come. Visitors to The Couch will be invited to write out their complaints and concerns on slips of paper and to deposit them in a box provided as part of The Couch display. These slips will subsequently be given to other artists and performers to create original music, poetry and artistic expressions that will help us let go of our negativity and look to a forward thinking creative identity.